When we last checked in on Steven Adams, after Pitt's game against Howard, it was clear that the big fella was experiencing some difficulties adjusting to the college game. At the time the learning curve looked particularly steep and the indecisiveness and confusion was hurting Adams' ability to impact games.
The next contest did nothing to shake this notion, as Adams played just 12 minutes, racking up a single field goal and 3 boards. Hardly a great sign that he was turning a corner. So what could he offer in Pitt's next game against Duquesne? How could he help the team mates who had been playing so well despite his absence? Answer – his first dominant rebounding game as a collegiate player.
Positives
Rebounding. Rebounding, rebounding, rebounding. As I mentioned in the report on his play against Howard, Adams' size and ability to box out an entire side of the lane, rather than just individual players, helps make rebounding easier for the rest of his team. This was true against Duquesne, but in addition Adams' showed the relentless desire on the offensive boards that made him an elite prospect, a quality that has been sorely missing in recent games. By the time the game was done Adams had 14 rebounds, 9 on the offensive end, and had given everyone a reminder of the brutal physicality with which he can play.
As a result of his rebounding prowess, Jamie Dixon entrusted Adams' with more minutes than he's played in any previous game, despite the fact that he was just 1-6 from the floor at the half. He responded by going 3-3 in the second half, with a particularly nice play coming at the 16 minute mark. Adams' managed to get junior center Martins Abele out of position on the high side and held the 7'1″, 295 pounder there until the pass came over the top and he could finish with an emphatic dunk. The combination of mobility and raw strength that allowed him to take advantage of Abele's poor positioning shows how Adams' can make his mark on the college stage. You can count on one hand the number of college bigs who can physically outmatch Adams, so if he uses his body on the offensive end like he has been on the defensive end, and he did just that in the 2nd half of this game, then there is definite potential for him to become a two way force before his freshman season is out.
This game provided a unique defensive challenge for Rotorua's finest export. Duquesne's starting center is 6'6″, 215lb senior Andre Marhold. As agile as Adams is for a 7 footer, Marhold moves as you'd expect a man 6 inches shorter and 40 pounds lighter to – more quickly. Marhold pulled Adams out to the perimeter and tried to best him with his movement, with little success. Despite dealing with a quicker player, Adams showed an instinctive understanding of the angles and shortcuts he needed to take to cut off penetration and it showed in the results – 4  points and only 18 minutes for Marhold. Now for the unique part – after Marhold proved ineffective who did head coach Jim Ferry turn to? The star of Adams' best offensive play in recent memory, the humongous Martins Abele. Abele played 15 minutes, matched up with Adams for almost the entirely of that time. In this matchup, the roles were reversed and Adams' could use his speed to overwhelm his opponent. That held true on both ends, as Adams contributed to Abele coughing the ball up four times on offense and frequently being found out of position on defense. Abele did score 6 points on 3/4 shooting, but in the contest between Adams and the opposing centers, it was a clear win for Pitt.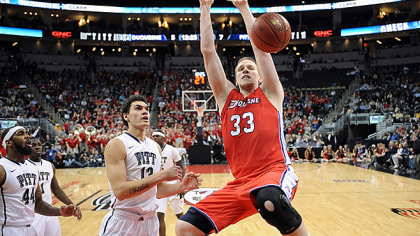 Negatives
Adams looked less unsure of himself in this contest, partially because of the aggression and purpose with which he played, particularly on the boards and battling other bigs in the trenches. His whole purpose in the game was fighting for post or rebounding position and setting screens when called upon. He was a joy to watch in this seemingly simplified role. There was, however, one issue that reared it's head which has been a constant for Adams in recent times – a lack of composure. Most easily seen by how quickly he would toss up putback attempts after snagging an offensive rebound, Adams still seems to lack the confidence take his time with the ball when it's called for. This weakness may subside in time, as he grows more comfortable against college level defenses but as of right now, it's certainly holding him back.
This feeds into another growing concern surrounding Adams – does he lack the touch that can turn a big man from good to great? While there are issues with the speed with which Adams shoots, and the shots he elects to take, there is also at times an alarming harshness to his misses inside and the oft mentioned short jumpshot has yet to show itself effective at all thus far. Adams should be able to generate enough offense from his energy and sheer size to make him  impactful on that end, but whether his offensive game develops any guile or delicacy to go with the already present brute force is something to watch as the season progresses.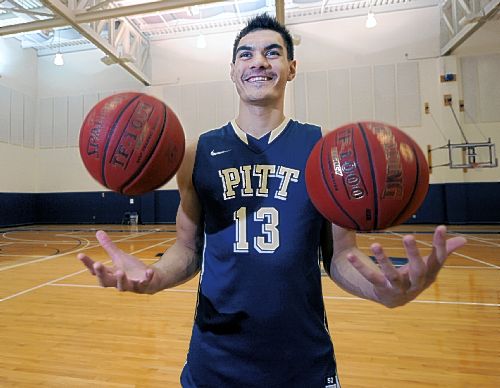 Overall, this was a great game for Steven Adams and a much needed step in a positive direction after an underwhelming few weeks. Adams has received some attention from draft pundits for his slow start, with many pushing him now as a sure 2014 or 2015 draft prospect, rather than a potential one and done guy. Putting as strong an imprint on the Duquesne game as he did is a big deal, as elite prospects need to show that type of raw, game-changing ability. After the disappointment of watching him riding pine for much of the last few weeks, I hope Adams can carry the momentum from this game on and shift into being the assertive, dominant two way force he's capable of being before Pitt enters conference play.